The power to beat the elements is now at your fingertips! Our remote-controlled opening roof offers protection from sun, wind and rain alike, so it's the perfect choice for year round comfort and convenience. Stylish and functional, you'll want to spend all your free time outside.

On those beautiful summer days, you can open the electronically-controlled louvres with the push of a button to let the sunlight in. If the weather's not so good, or you want to relax in the shade, just close them again. An inbuilt rain sensor even detects when rain is in the air and will automatically close the roof without you lifting a finger!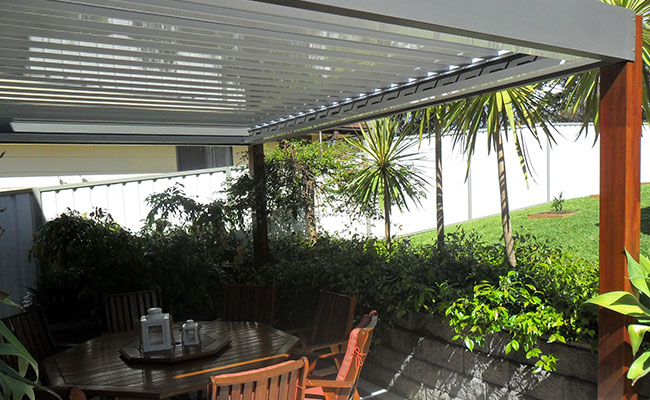 Here at Patios Coast2Coast, we can supply and install your opening louvre roof in a variety of styles - either flat, pitched and gabled depending on your needs, or simply personal taste. Your opening roof doesn't just serve a functional purpose, it also looks great and will add value to your home.
We're proud of our reputation in the Central Coast area/Hunter, and want to maintain it. That's why we offer an industry-leading 10 year warranty on all powdercoating parts, so you can have peace of mind both during the installation process and years down the line. Our expertise and experience will come in handy throughout, whether installing your opening louvre roof or suggesting suitable styles for your home.
Want your very own opening roof? If you're in the Central Coast area then there's only one choice. Why not check out our
gallery
for some inspiration, or give us a call on 1300 COAST6?!
Flat Roof
Create a functional outdoor living area that will enhance your home and lifestyle with the smooth, simple, uncluttered lines of the flat roof. The versatile flat roof system can be configured to cover any area around home.

It is ideal either as a single unit, or incorporated with a gable roof, curved roof, or pergola system. Available as either a freestanding structure or attached to the home it can be used as a verandah, patio or carport. With the addition of rooflite you can supply filtered light to the underside, for an effective and versatile roofing solution.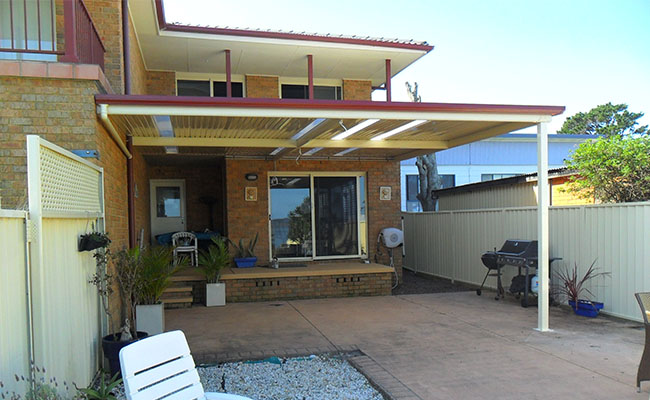 Curved Roof
Stay ahead of the curve with our attractive curved roof designs, for the perfect patios on the Central Coast.

The curved roof can span up to 6.6 metres. When combined with flat roof or pergola sections it becomes part of a system, with the elegant curved roof forming the central feature of the design. We can work closely with you to deliver something that ticks every box, looks amazing and will last for years to come.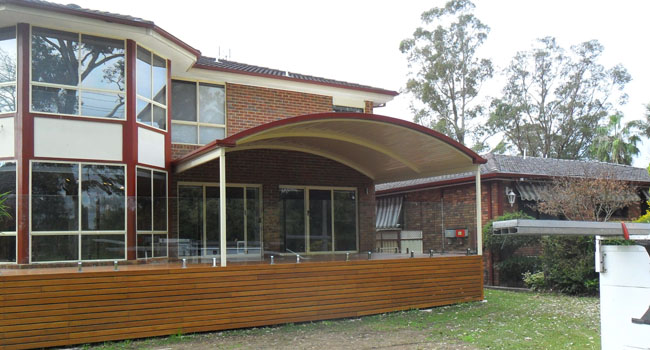 Gable Roof
The gable roof of a Central Coast patio, verandah or carport has an open feel to it that will enrich your home or outdoor entertaining area. Attractive and durable, your gable roof will stand the test of time and can be enjoyed by you, family and friends year-round - whether sheltering from the heat, wind and rain!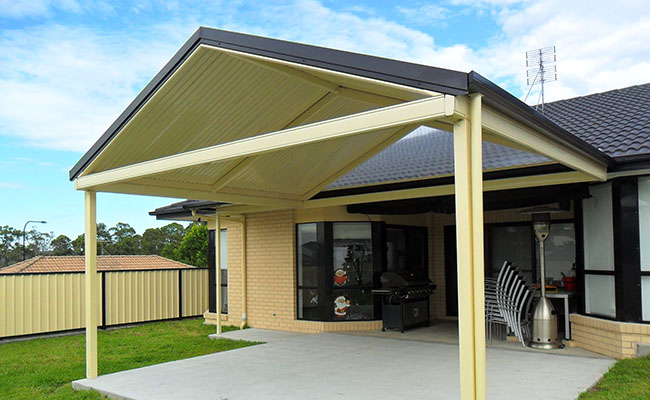 Insulated Roof
Relaxing outside and enjoying the weather is great, but what if things get a little too hot? With our insulated patio roofs, you can be perfectly protected from the heat, and with their waterproof design, you'll also be comfortable when the weather turns!
If you're after quality insulated patios on the Central Coast, then look no further. We have a range of options available, with a fire-retardant core all the way from 50 - 150mm thick giving you extra safety and peace of mind, and a top roof sheet profile of corrugated and trim deck - not to mention optional lighting and fan accessories.