Outdoor Opening Louvre Roof Redefined
Patios Coast2Coast is an opening louvre roof specialist and a patio builder in Sydney and the Central Coast that has enhanced the outdoor living space of hundreds of homes in these two great cities for over 30 years. We specialise in the construction of louvred patio roofs and pergola roofing. Our professional patio builders are involved in the entire process, from conception to completion. This includes drawing up a custom design for your home, producing locally manufactured high quality building materials, and on-site installation by experienced tradesmen.
Our construction services go beyond simply being patio roof or pergola builders. We also do decking and opening roof systems that serve as insulated pergola roofing or as a retractable pergola roof. Many of our customers also seek to add aluminium privacy screens and outdoor blinds to complement the louvred roof system that we construct for them.

So whether you're planning to expand your current outdoor entertainment area, protect your furniture with weather-sensitive automated Opening Louvre Roof, or simply want a comfortable, relaxing outdoor living space to enjoy, Patios Coast2Coast is the choice for you to make your dream home in Sydney or the Central Coast a reality.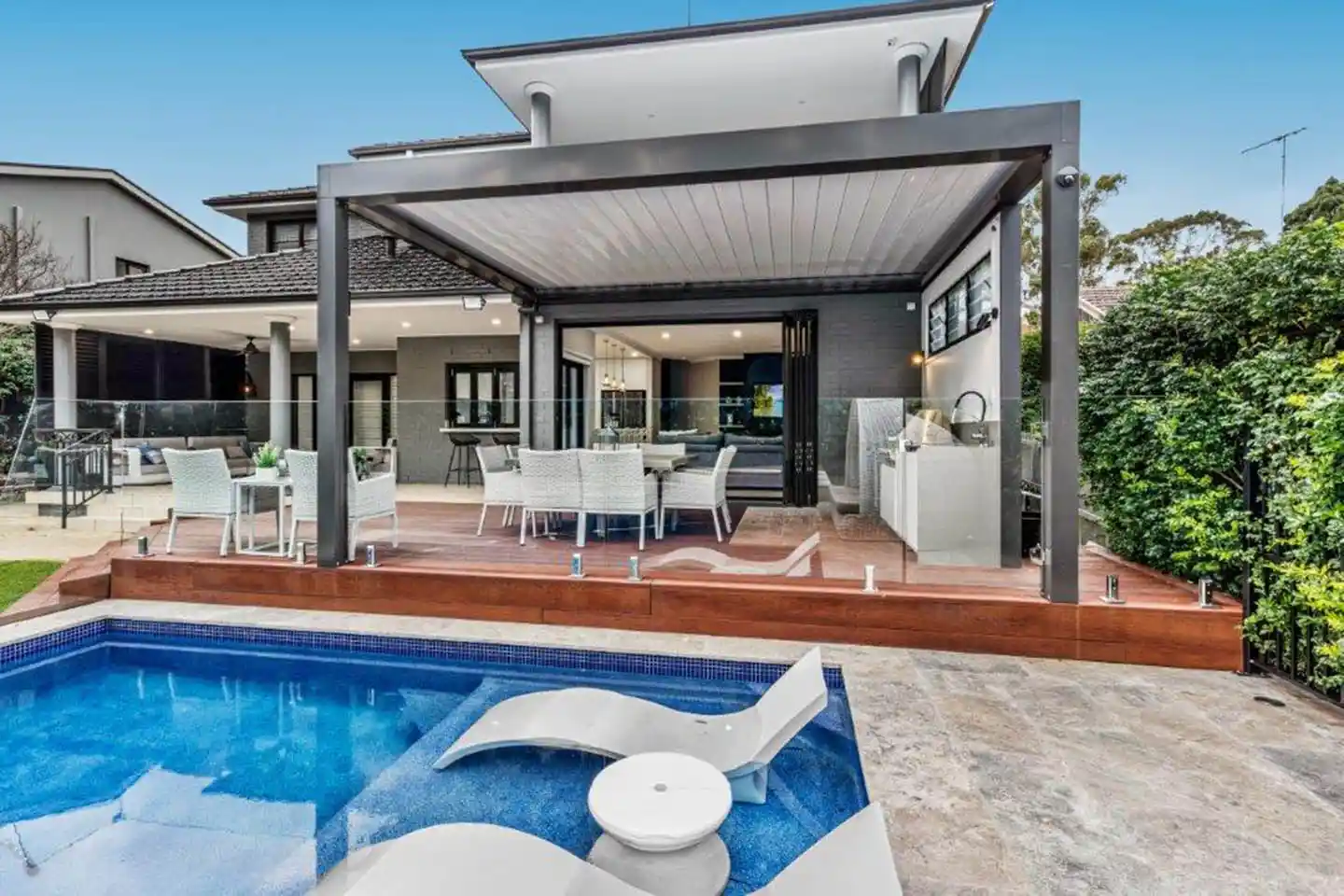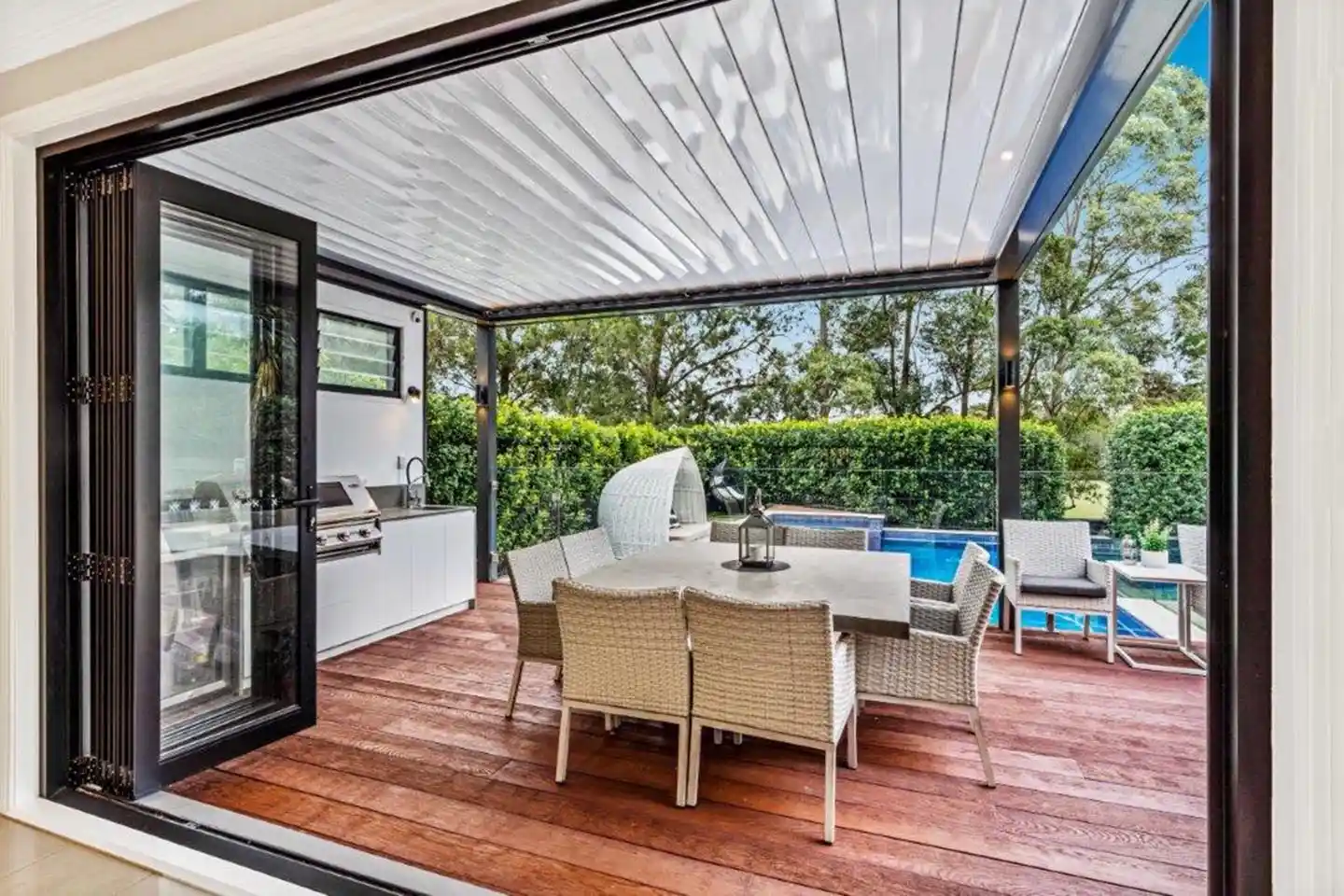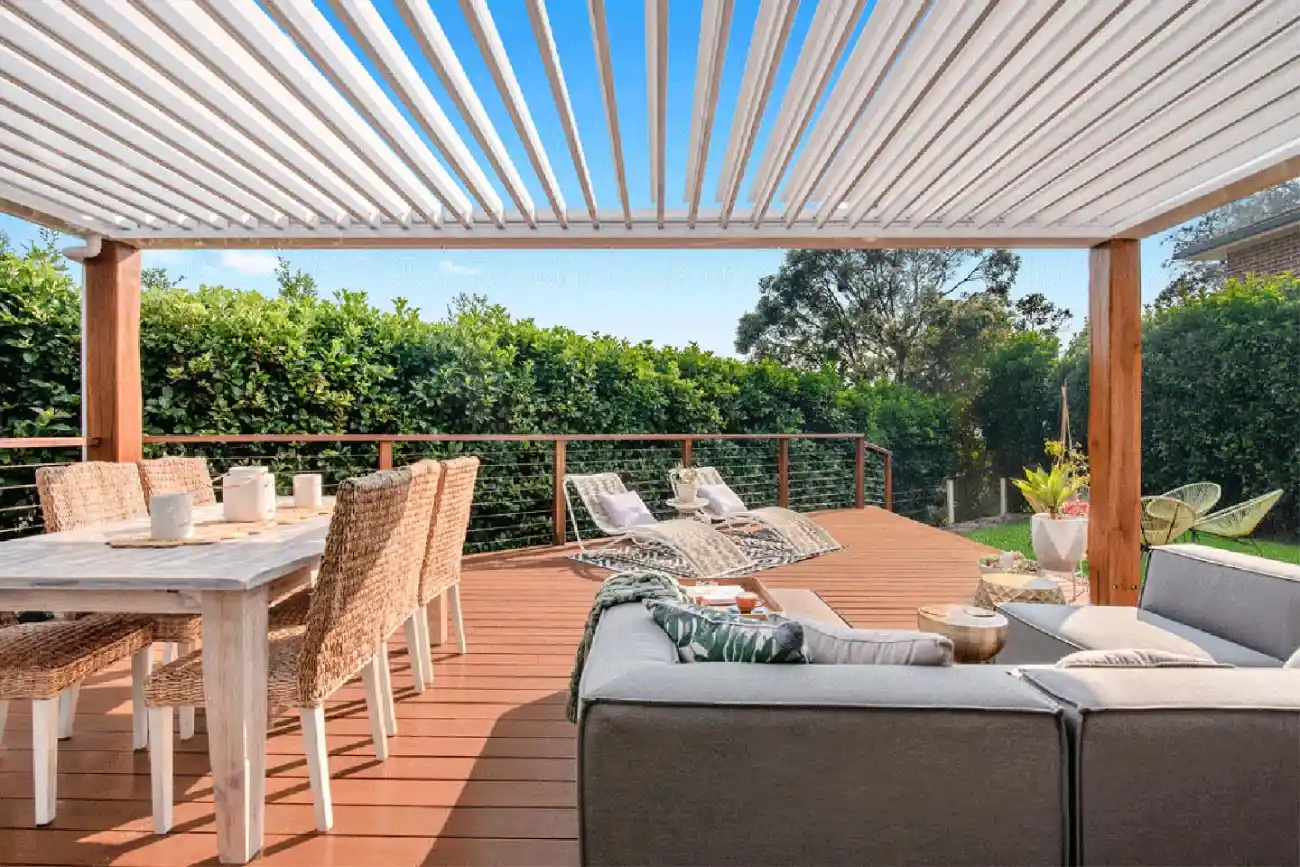 It's Easy To Get Started With Patios in Sydney
Our friendly team are availbale for an on-site consultation to discuss your ideas and dreams. We can offer advice and a wide range of options including Opening Louvre Roof Systems to suit your needs and budget. You may be surprised what is possible to create your Perfect Outdoor Living Oasis.
Range of Patio Roofs
As a specialist pergola builders in Sydney and Central coast, our patio roofs are stylised for each home. We factor in the building materials, colours, and shapes of the current design when designing a detached louvered pergola or an opening patio roof connected to the home. Our construction services also factor in the desired outcome and budget.
Common Opening Roof Styles:
Flat Roofs
Curved Roofs
Gable Roofs
Retractable Patio Roofs & Pergolas
Insulated Patio Roofs & Pergolas
Opening Louvre Roof Systems
Other Outdoor Entertaining Uplifts
Transforming a yard and patio into a luxurious outdoor entertaining area is not limited to simply constructing a patio roof onto a home or having a pergola built within the property. Our services also can uplift existing outdoor roofs and patios with the following:
Timber Decking
Zip screen Blinds
Aluminium Privacy Screens
Outdoor Blinds & Awnings
Louvered Pergolas & Gazebos
Insulated Pergolas & Gazebos
Why choose Us For an Opening Louvre Roof or Patio Roof?
With over 30 years experience as patio builders who specialise in pergola roofing, you can have confidence that we can handle jobs of any size or difficulty that the landscape of your property, or even local council, imposes on you. With a portfolio of hundreds of patios in Sydney and the Central Coast, you can be sure that we communicate to you in a friendly, professional, and easy to understand manner.
This may be during the design stage, where perhaps you've got queries about if your home would be better suited with a retractable roof system or an opening louvre roof. Or after construction is finished, you would like another run through of the automated electronic features built into our Oasis opening roof systems.
By having our building materials manufactured at our factory off-site, our tradesmen will work with minimum disruption to your home life. Our whole team is polite, respectful, we all share the same ethos to produce for our customers the best patios Sydney and the Central Coast have for outdoor entertaining.
Local Trades
As a family owned and operated business, we keep the number of concurrent opening patio roof builder jobs low to ensure that our project manager will be available to you throughout the entire process.
Largest Range
With an extensive range of Outdoor Living Options locally manufactured, we can custom design a solution specifically for your requirements. Huge Range of Colours and Styles.
Workmanship Guarantee
We pride ourselves on Quality Workmanship and only use the finest quality materials. All labour and products used are backed by our Warranty based on product chosen. Local Reputation, Local Customers.
On-Site Consultation
We are more than happy to come to your premises to discuss your ideas and offer friendly advice. Our expert team can introduce you to options you may not of thought possible.
Louvre Pergolas
& Opening Louvre Roof Systems
Manufactured right here in Australia using the latest technology.
The opening roof systems we provide are produced quickly with only the high quality material; including the latest in weather sensitive and remote technologies. Every opening patio roof and louvred pergola is designed not just to match the architecture of the existing property, but to withstand the east-coast climate and provide the dream outdoor entertaining space.
The same goes for louvered roofs, blinds, screens, decks, pergolas. We have many options, colours and materials available to transform a home.
If you are interested in having us come to do a no obligation free on-site assessment and quote, fill in the form below or call us directly
on 1300 262 786 so that one of our friendly staff can help you transform your home by adding a valuable outdoor entertaining space.
For All Occasions
Pergola, Patio or Gazebo. Outdoor Entertaining Areas for all year round.
Outdoor entertaining has changed and evolved to suit the Australian climate. Rather than sticking with traditional style patio areas, there are now many options available to completely design something original and suited to your needs. A Gazebo can be attached to your dwelling or free standing with many roofs styles on offer. Transform your home by adding valuable outdoor entertaining space and enjoy the great Aussie weather.